MaineBiz
Kennebunk general store, popular with Bush family and celebs, goes on the market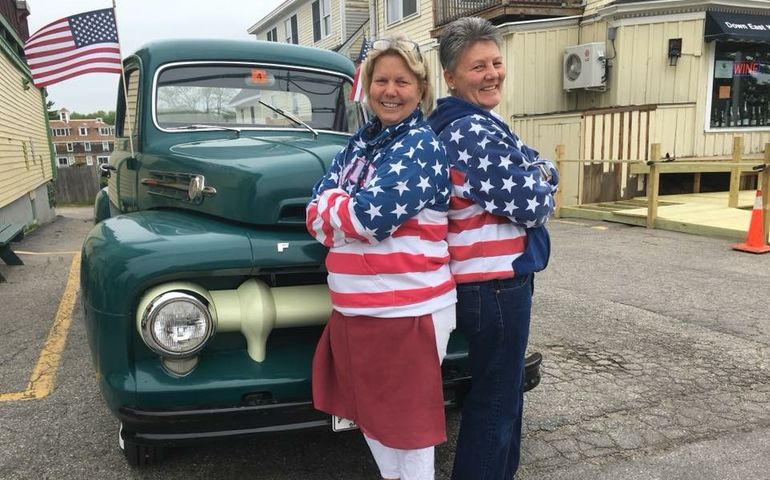 Courtesy / H.B. Provisions Helen Thorgalsen, left, and Bonnie Clement, with their 1952 Ford truck, want to sell their "old-fashioned" general store to a buyer who maintains its integrity.
The late President George H.W. Bush and his wife Barbara popped in regularly for a cup of coffee.
President George W. Bush also enjoyed hanging around the store and talking with people. His wife Laura did a book signing there.
Actor Patrick Dempsey is a regular and musician Carly Simon once stopped by. For locals and tourists, it's a regular stop.
H.B. Provisions — "a general store and so much more," as its tagline says — has been a hub of the Kennebunk community for many years.
The owners are now looking to retire and hope to find a buyer who will maintain the store's character.
"What's fun about it is, anybody who ends up buying it, they'll kind of be the new heroes — 'Oh, my God, you bought H.B. Provisions?!'" Bonnie Clement, who owns the store with her wife and business partner, Helen Thorgalsen, told Mainebiz.
A store with soul
The couple hired John Anderson of Investcomm Commercial Group to list the property and business.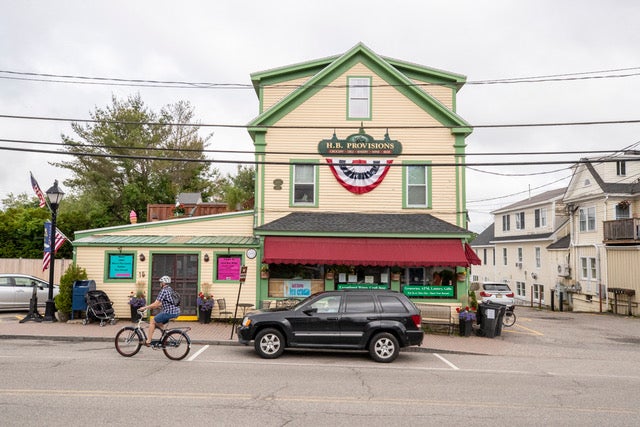 Courtesy / H.B. Provisions The building dates back to 1865 and has always served as a store.
"The business is kind of like a social center for the community," said Anderson. "Rather than just a commercial building or an industrial building, this has a soul to it."
The $3.8 million listing went live mid-January.
"There's been a lot of interest," he said. "It's just trying to find the right person who wants to do right by it."
Queries include those coming from folks looking for a career change and out-of-state people looking to relocate.
Located at 15 Western Ave. in Kennebunk's Lower Village, the building comprises a 2,976-square-feet ground-floor store and a 2,642-square-foot three-bedroom residence on the second and third floors. The living space is open concept with smaller sitting areas, a fully-equipped kitchen, a master bedroom and adjoining loft, and three decks.
A 2012 renovation included installing a sprinkler system in the entire building. The building sits on 0.22 acres with 115 feet of road frontage on Route 9. There are two parking lots.
"It's a good gathering point," Anderson said. "It's really visible and everyone knows where it is."
The listing includes an operational 1952 Ford, three-speed pickup truck, acquired by Clement and Thorgalsen in 2015 as part of their branding of H.B. Provisions as an old-fashioned general store.
The business is centrally located to area beaches, Dock Square, residential neighborhoods and vacation rentals and has great foot traffic, according to the listing.
Rebranding
The building dates back to 1865 and has always served as a store.
Thorgalsen and Clement bought the property, then known as Meserve's Market, in 2002.
They changed the name to H.B. Provisions — from their first initials, Helen and Bonnie — and began recreating and rebranding the store.
They removed everything from the interior and brought in new shelving and displays followed by the installation of the deli and new inventory.
They painted the exterior yellow accented with green and maroon trim.
Today the market offers coffee, grab-and-go food, baked and hot and cold deli goods, beer, wine, liquor, Maine gifts, beach supplies, books and more.
In 2018 H.B. Provisions sold over 45,000 cups of brewed coffee. In the peak tourist season, the deli often prepares over 400 sandwiches per day. A seating area includes several community tables, a few smaller tables and three large picture windows looking onto Western Avenue.
In 2019, H.B. Provisions bought a soft-serve ice cream machine; in just one month, it sold over 2,500 cones.
Before H.B Provisions, Clement worked in the mental health sector and the restaurant sector at different points of her career. Thorgalsen was primarily focused on raising her children.
The two met over 20 years ago when Clement was running a restaurant in Kennebunkport.
In 2001, they noticed that Meserve's Market was for sale and decided to go for it.
"It was needing a lot of extra love and attention," recalled Clement. "We gutted it and five weeks later we opened it as a general store and it's taken off like crazy."
Presidential motorcade
Clement said she was previously acquainted with the elder Bushes. The Bush family has a summer home on Walker's Point in neighboring Kennebunkport.
"The second weekend we were open — Memorial Day weekend — we were in the office," Clement recalled. "I looked out the window and I said, 'Oh, my God, the motorcade just pulled up out front.' I said, 'I think President and Mrs. Bush are coming in.'"
It was a Sunday morning and the couple came into the store to get the Sunday newspaper.
"From that point on, they both would pop in and out pretty regularly, whether it was to get their Sunday paper after church, or to get cup of coffee," Clement said.
Clement and Thorgalsen were invited to numerous Bush events over the years. The Bushes attended the couple's wedding in 2013 and the president served as an official witness; the occurrence appeared in newspapers around the world.
"A lot of people in Kennebunkport became friends with them," she continued. "That's how they are."
George W. Bush also patronized the store.
"He loved coming in and chatting with people," said Clement. "We did a book signing for a book that Laura wrote."
TV stars
Patrick Dempsey has become good friends with the storeowners.
"He was just sending me text messages yesterday saying he would be in town," Clement said. "That's always fun, when people come in and say, 'Oh, my God, that's Patrick Dempsey.'"
Another regular-turned-close-friend has been Caroline Rhea, a Canadian actor and stand-up comedian best known for her role as Hilda Spellman on the ABC show "Sabrina the Teenage Witch."
Carly Simon stopped in one night after working in Portland on an album, Clement said. But customers aren't just the rich and famous.
"We have a lot of tourist friends who are seasonal but we also have a lot of friends who are local people who come in as well."
Lifestyle business
The listing has generated some queries. But the couple is particular about who their buyer will be.
"We want to make sure that whoever buys it is buying it because it's a viable turnkey business," Clement said. "We really want to keep the integrity of the store. Since it's been publicly on the market, it's amazing how many people come in and — first, they don't want us to leave. Second, they say, 'Make sure the buyer doesn't change anything.'
"Our goal is definitely to sell it to somebody who appreciates what we've done and what the store has become to the community but also has an eye on maybe making some changes to things we haven't seen, maybe some subtle changes."
Clement noted the property could potentially generate two revenue streams — from the store and from renting the upstairs apartment.
The couple currently lives in the apartment but plans to move to Vermont, where Thorgalsen has family, once the property sells. They'll also continue to operate the store until it sells, and said they will offer their help for a transition to a new owner.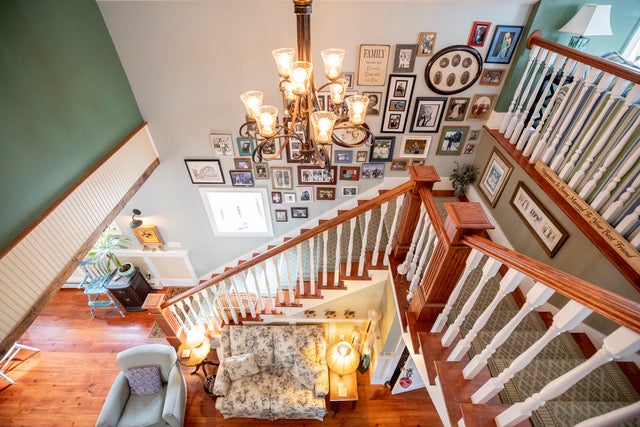 Courtesy / H.B. Provisions A two-story residence is on the second and third floor of the building.
"People love our store," added Thorgalsen. "There's a lot to be said for somebody to own an old-fashioned general store in a very affluent community."
She added, "It's two-fold. It's a wonderful store, yet it's also a wonderful home. So it's about finding somebody who's looking to embrace that lifestyle."
When the property first hit the market, early interest came from people interested in the development of the property for uses such as condominiums.
"That's not something we wanted," said Clement.
The inventory and truck are included in the listing. The truck is part of the store's personality.
"It's only out in the summer months and we go, 'Let's just drive around town,'" said Clement. "It's got a very fun horn. People are always waving."